We are pleased to offer lodging in our beautiful cabins at competitive rates. The rates vary by cabin and by season, as demonstrated by the chart below. Please note that holidays are charged at peak season rates. To ask questions or make a reservation, please fill out our online booking request form, or call us now toll-free at 1-866-937-7829. Our local number if you are in the area is 1-423-768-4484.

Please note that the minimum stay of two nights is increased to a minimum stay of three nights over holidays, and a minimum stay of three nights to one week, depending on the date, during race weeks. Weekly stays can start on any day except Saturday. For pictures, floorplans, and more information on our cabins, please visit the cabins page.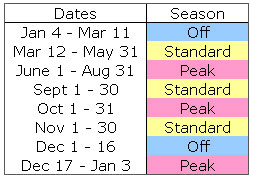 Payment Information:

A 50% deposit is required to guarantee your reservation. We accept Visa, Mastercard, Discover, a personal check for reservation deposits if received at least two weeks in advance, and cash. More information on payment is available in our policies document (.pdf) (requires Adobe Reader.)


Additional Information:
1 week = 7 nights. Rates are subject to change without notice. All reservations are subject to our policies document (.pdf) (requires Adobe Reader), which is sent to each group prior to arrival, and is available here. *Stay 5 consecutive nights and get the 6th and 7th night free.


---