In the Cherokee National Forest, Appalachian Mountain Range and surrounding areas, recreation opportunities are plentiful. With 30 designated recreation areas, 700 miles of trail, hundreds of miles of cold water streams, seven whitewater rivers, and thousands of acres of forest, you could spend months enjoying all there is to see and do!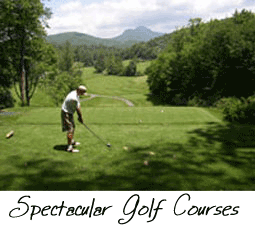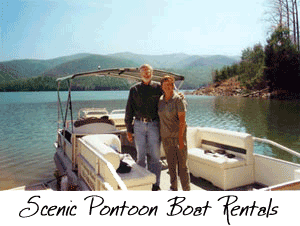 In each cabin you will find a notebook full of brochures and information about the local area. We hope it will be useful to you as you plan your days, and we'd love to hear about the activites you tried. Aside from hiking and sightseeing, the spectacular Watauga Lake is great for boating, fishing, and swimming, and in addition to shopping and antiquing, there are many historical sights to visit. The Blue Ridge Parkway is very close and offers spectacular views from its lookout points, and access to historical sights, walking trails, waterfalls, museums, a visitors center, and much more!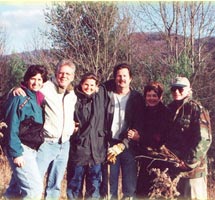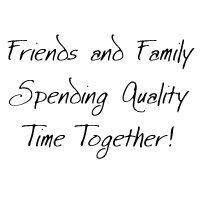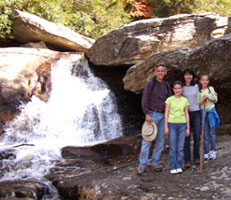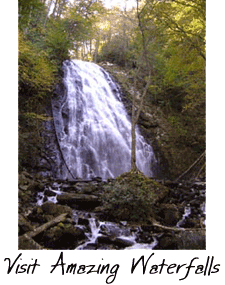 Hiking & Sightseeing
With 630,000 acres of Cherokee National Forest to explore, you won't be able to visit all of the interesting trails and recreational areas. The Appalachian National Scenic Trail winds through Cherokee National Forest just on the other side of Lake Watauga, and there is an access point near the lake. Cherokee National Forest boasts over 600 miles of non-motorized trails designated for allows foot, bike, and horse use. Waterfalls, caves, and parks offer beautiful scenery as well as many recreational opportunities for everyone. If you are interested in spectacular fall foliage, this is the place to be!

For more information:
US National Park Service - Appalachian National Scenic Trail information.
USDA Forest Service - Cherokee National Forest information.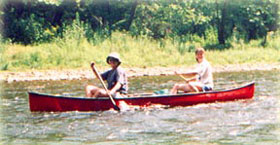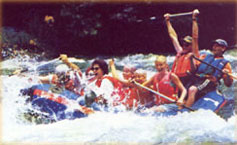 Lake Watauga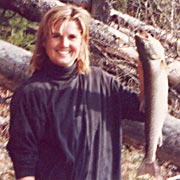 Nestled into the mountains on the northeastern branch of the lake, our cabins allow easy access to beautiful Lake Watauga. Fed by cool mountain streams, Lake Watauga is 16 miles long, with 110 miles of beautiful shoreline, 85% of which is undeveloped and within the National Forest. "Watauga" is a Native American word meaning beautiful waters. Known for its cleanliness and scenic mountain location, the lake is 2,000 feet above sea level and reaches depths of over 300 feet. There are several picnicking, swimming, and boating facilities, all within a few minutes drive of the cabins. Lake Watauga is a popular fishing spot, and thirteen species of game fish, including rainbow trout, brown trout, walleye, and both smallmouth and largemouth bass inhabit the waters of the lake.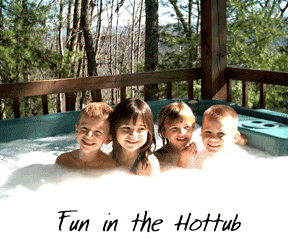 Shopping
Antiques abound in this part of the country. Whether you prefer large, three-story malls or hometown yard sales, there are plenty of opportunities to make that special find. Nearby towns, such as Boone, Blowing Rock, and Jonesborough have nice downtown areas that feature central parking and main streets lined with shops and cafés.


Other Activities
This area provides easy access to dozens of activities including:
• Hiking • Whitewater Rafting • Canoeing & Kayaking • Swimming • Mountain Biking • Sailing • Spelunking/Caving • Horseback Riding • Bird Watching • Wildlife • Power Boating • Water-Skiing • Fishing • 4-wheeling • Rock Climbing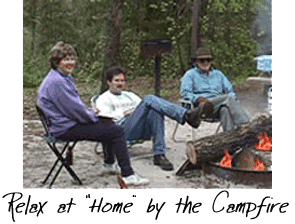 • Plane and Helicopter Rides • Roller Skating • Jet-Skiing • Downhill and Cross-Country Skiing • Ice Skating • Historical Sightseeing • Motorcycle Touring • Bristol Speedway Races • Blue Ridge Parkway • Scenic Drives • Tennis • Golf

For more information:
USDA Forest Service - Cherokee National Forest trail directory.


---