Cabins:
Each cabin has a GREAT view of Watauga Lake and the surrounding Appalachian Mountains. We have made the cabins versatile so that a couple or a large group can enjoy their stay. Although each cabin is private, we often have larger groups stay in two, three, or all four cabins (such as for a family reunion) and have still felt like they are all together. All four cabins are completely furnished and tastefully decorated with many antiques. All have fantastic views of the lake and the surrounding mountains. Upon arrival, guests walk up onto a large covered porch that faces the lake with an attached 5-7-person hot tub. Through the front door is the cathedral ceiling living room with a large stone fireplace and satellite TV with a DVD player. Attached to the side or rear of the house is a deck with, besides a great view, a picnic table and a grill. The cabins have a full kitchen on the first floor with a microwave; toaster, coffee pot/filters, pots/pans and utensils are provided. All of the cabins have central heat/air. Towels and linens are furnished, so all you need to bring are your personal items and food. As an added feature, adjacent to each cabin is a private campfire area so guests may enjoy roasting marshmallows, sitting under the stars, and sharing the "outdoor experience." Wood for the campfire is provided at no charge.


Things To Do:
You could spend months enjoying all there is to see. In each cabin you will find a notebook full of brochures, "Things to do", and lots of information about the area. Use it to gather useful information to plan your days! There is hiking and sightseeing, the spectacular Watauga Lake is great for boating, fishing, and swimming, there are historical sights to visit, shopping and antiquing, and lots of outdoor activities. The Blue Ridge Parkway is very close and offers gorgeous views, historical sights, walking trails, waterfalls, museums, Visitors Center, and much more.


Hiking & Sightseeing:
With 630,000 acres of Cherokee National Forest, you will never run out of interesting trails and recreational areas. The Appalachian Trail is only a few minutes away. Waterfalls, caves, and parks offer beautiful scenery as well as many recreational opportunities for everyone. If you are interested in spectacular fall foliage, this is the place to be!


Lake Watauga:
Fed by cool mountain streams, Lake Watauga is 17 miles long and has 110 miles of shoreline. It is one of the TVA's cleanest lakes with 85% of the lake within the National Forest. The lake is 2,000 feet above sea level and reaches depths of over 300 feet. There are picnicking, swimming, and boating facilities, all within a few minutes drive of the cabins. This is the perfect lake to fish and many of the streams are regularly stocked.


Shopping:
Antiques abound in this part of the country. From large, three-story malls to the home-town yard sale, you can easily make that special "find." Nearby towns, such as Boone, Blowing Rock, and Jonesborough have nice downtown areas that feature central parking and main streets with many shops and Cafes.


Outdoor Activities:
Bristol Speedway attracts visitors nationwide. In addition, this area provides the best in dozens of activities. To name a few: • Hiking • Whitewater Rafting • Canoeing & Kayaking • Mountain Biking • Swimming • Fishing • Sailing • Spelunking/Caving • Horseback Riding • Bird Watching • Wildlife • Power Boating • Water-Skiing •4-wheeling • Rock Climbing • Plane and Helicopter Rides • Roller Skating • Jet-Skiing • Downhill and Cross-Country Skiing • Ice Skating • Historical Sightseeing • Motorcycle Touring • Bristol Speedway Races • Blue Ridge Parkway • Scenic Drives


Rates: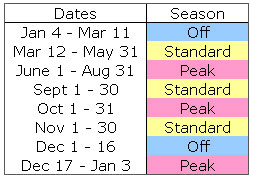 Additional Info:
1 week = 7 nights and can start on any day except Saturday; Rates are subject to change without notice so call for our most current rates; The rates above do not include tax. Apply Peak Season rates to holidays and race weeks. Please read our policies which are sent to each group prior to arrival, are available to view on our website, and are also available upon request. There is a nightly minimum so please check our rates page or call for those requirements.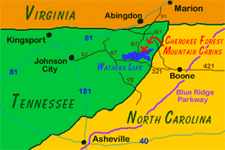 Cherokee Forest Mountain Cabins
798 Grindstaff Rd.
Butler, TN 37640
423-768-4484
owners@cabin4me.com
http://www.cabin4me.com

Return to Home Page.